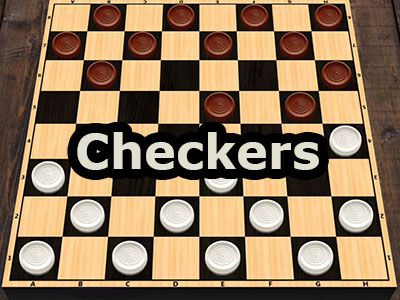 Checkers for Money
Draughts or checkers is a classic board game, analogues of which are known for thousands of years.This is one of the most famous games of skill, requires good strategic thinking and the ability to calculate possible options. There are many variants of rules in different countries, but the most famous are English and Russian 8 × 8, as well as international 10 × 10 variants. Try your skills, play checkers for money!

Play Checkers for Money Online!
Best sites to play Checkers  online for cash with real opponents:
Some facts about Checkers
Checkers, game for two players, known in England as draughts.
The game dates back to the 12th century, in France.
Egyptian version Alquerque was so popular that man played it for thousands of years.
If you cannot move a piece on your turn, you lose.
Center positions command twice as many moves as edge positions
Using the sides of the board can be quite an effective checkers strategy.
While the rules are easy to learn, game strategy is quite complex.
You might also like a solitaire-like game

Pineapple OFC:
There are no bets placed during the rounds of play.

The strength of the hand is as poker hand rankings.

The back hand must be stronger than the middle hand and the middle than the front.

Fantasyland for a pair of queens or stronger in the top.

PC, Mobile and Web clients.
How would you rate this exciting game of skill?
skillgames
Finally, we can use the bitcoin for deposits and withdrawals of money from anywhere in the world. So, let's say "yes" bitcoin video games!
skillgames
Check out one of the best poker room for beginers and definitely the best place to play Open Face [...]
skillgames
World Cup and VBet's 15-year-anniversary VBet kicks off a new contest raffling 9 cars. Place a bet of at least €2 in the Sport section on any event outcome...