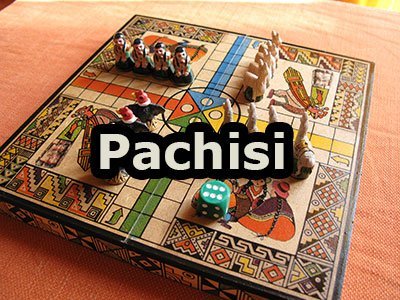 Pachisi
The game Pachisi (aka Pachis, Ludo, Parchís, Chausar, Parcheesi) is an ancient board game, which appeared in India in the 6th century. The game involved 2-4 players, and is played on a cross-shaped board. The goal of the game is to use the dice to move all the pawns to the home section. Parcheesi is a very interesting logical game that resembles backgammon a little. It also perfectly combines strategy and luck. You can play Pachisi online for fan or for real prizes!
Play Pachisi online for real money!
The Best place to play Pachisi with real opponents:
Some facts about Parcheesi
Pachis, the national game of India.
Mensch ärgere Dich nicht is a popular German variant.
The name comes from the Indian word "pacis" which means twenty five.
In 1896, a westernised version was published in England under the name Ludo.
Americans may recognise the game Parcheesi.

It is a descendant of the

game of Ashte kashte.
Closed
Here you will find many of the best known and most popular card games and board games, arcades and sport games.
Backgammon, Yahtzy

Dominoes, Pachisi

Romme, Skat and others

50€ Bonus on first deposit

Bank Transfer, Skrill, Neteller
You might also like

a solitaire-like game

Pineapple OFC:
There are no bets placed during the rounds of play.

The strength of the hand is as poker hand rankings.

The back hand must be stronger than the middle hand and the middle than the front.

Fantasyland for a pair of queens or stronger in the top.

PC, Mobile and Web clients.
How would you rate this exciting game of skill?
skillgames
Play sports video games online for money with the best site for online competitions. We are constantly looking for and offering you the best Players Lounge promo code on the net.
skillgames
Finally, we can use the bitcoin for deposits and withdrawals of money from anywhere in the world. So, let's say "yes" bitcoin video games!
skillgames
Check out one of the best poker room for beginers and definitely the best place to play Open Face [...]