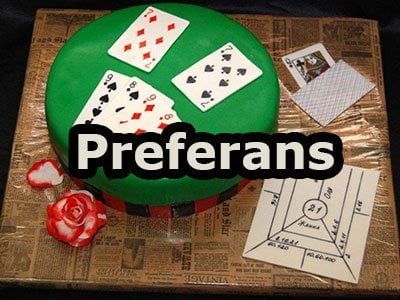 Preferans Online
The game Preferans (aka Preference, Austrian Préférence, Greek Prefa) is one of the most interesting and strategic card games. The game appeared in the 19th century in the Austrian Empire and has since gained great popularity especially in Russia, but also in Eastern Europe and the Balkans. Usually a group of 3 to 4 people with a deck of 32 cards plays preference. The most popular preferans online versions are Sochi, Classic, Rostov and Leningrad.
Play Preferans online for real money
Best sites to play Preference for cash with real opponents:
Some facts about Preference
Preferens is one of the most widespread card games among serious card players in Russia.
Preference is a complicated game with many rules, tricks, and strategies.
The bidding in this game is only for the right to name the trump suit, not for the number of tricks expected to be won.
Preference is a zero-sum game, so the scoring procedure listed here is designed for ease of computation.
Scores are kept on score sheets that have a triangular area designated for each player.
The major varieties of Preference are Russian, Austrian, and Croatian.
Closed
A reliable and time-tested site offering a variety of skill games for real money. There is both a cash game and tournaments, including multi-table tournaments.
№1 Preferans site

Pineapple OFC, Backgammon

Deberc, Belot, Domino

Deposit Bonus 100% up to 500$

Credit Card, Skrill, Webmoney, QIWI, Moneta