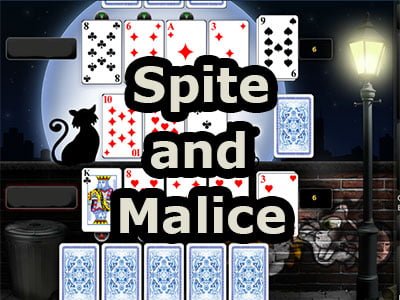 Spite and Malice Card Game
The game Spite and Malice (aka Skip-Bo, Katz und Maus, Cat and Mouse, Flinch) is an interesting variation similar to a competitive solitaire card game for 2 players, in which you can influence the opponent's actions by changing your own strategy. Play all your cards faster than your opponents do and prevent them from doing it. Find your way to win Spite and Malice online and have fun!
Play Spite and Malice online for real money
Best sites to play online Spite and Malice for cash with real opponents:
Some facts about the game
A variation sold by Mattel is called Skip-Bo.
The King is wild and can be used for any value.
Spite and Malice card game is similar to a game called Misery.
The card may come from your hand, your 4 discard piles, or your play stack.
Spite & Malice is about racing your opponent to play cards from your pile.
The game ends when someone wins by playing the last card of their pay-off pile to the centre.
How would you rate this exciting game of skill?
skillgames
Skill7 is closing its gates, but you'll receive a 100% bonus when you switch to StarGames! What does the [...]
skillgames
Essential Tips for Gin Player: 1. Minimize mechanical errors by orderly arrangement of your hand.
skillgames
Skill7 brings you not only games of skill such as Backgammon, Rummy, Yahtzee, Skip-Bo, Pachisi, Dominoes, Billiards, Gin Rummy, Schnapsen, Sixty-six, [...]