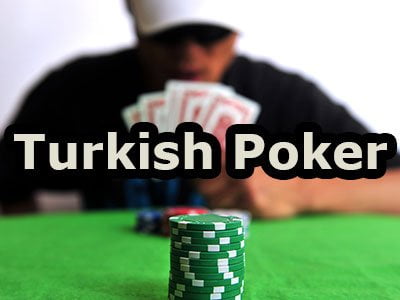 Turkish Poker
The game Turkish poker (aka Türk Pokeri) is a type of poker that is popular among the public of Middle East because it is also known as closed card poker and is especially open to bluffing. This is one of the five card draws played by a deck of 24, 28, 32 and 36 cards and 5 pockets dealt. Try this fun and very exciting game!
Play Turkish Poker online for real money
Best sites to play Turkish Poker for cash with real opponents:
Some facts about Türk Pokeri
Each player receives five cards and up to four can be exchanged.
The number of cards removed from the pack is increased if there are less players in the game.
Three of a kind beats a straight.
A flush beats a full house.
The minimum number of players is 2 and the maximum is 5.
The Ace is normally the highest card, but can be used as a low card to make a straight).
How would you rate this exciting game of skill?
skillgames
Essential Tips for Gin Player: 1. Minimize mechanical errors by orderly arrangement of your hand.
skillgames
Skill7 brings you not only games of skill such as Backgammon, Rummy, Yahtzee, Skip-Bo, Pachisi, Dominoes, Billiards, Gin Rummy, Schnapsen, Sixty-six, [...]
skillgames
The invention of playing cards has been variously credited to the Indians, Arabs, and Egyptians. Card playing was introduced through the Crusades.