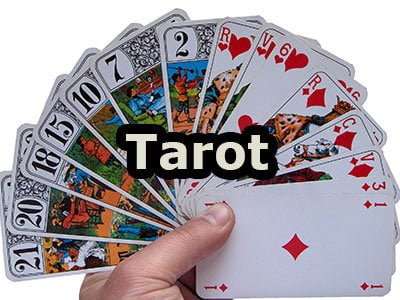 French Tarot Online
The game French Tarot card game (aka Tarot Français) is a classic card game in different versions of which have been played for centuries. In France, Tarot by popularity is second only to Belote. A special feature of the game is the use of the original 78-card deck. The main goal is to take tricks, which requires attention and strategy. Become a member of a large community of players and start to play french tarot online!
Play French Tarot Card Game online!
Best sites to play French Card Game Tarot for money with real opponents:
Some facts about French Tarot
There are clubs and tournaments (including duplicate events) in France.
It was mentioned in Italian scripts originating from the 15th century.
Tarot is both an individual and a team game.
The Fédération Française de Tarot publishes official rules.
The defence plays as a team against the taker.
French Tarot card game is also popular in French-speaking Canada.
Join the best site with 15 years of experience in card games on the internet. Thousands of players are online every day.

French Tarot Online

Belote, Rammy, Yahtzy

Join 200,000 players

Biggest belote tournaments

Best VIP club and Promotions
Enter your email and get invite!